Earvin Morris scored 17 points and added six rebounds in his season debut helping UTEP swish home 11 three pointers on 19 attempts in a 77-62 win Saturday night.
Four Miners reached double figure scoring numbers as Lee Moore matched Morris with 17 points and six rebounds.  Dominic Artis stuffed the stat sheet with 11 points, six rebounds, nine assists with no turnovers. Hooper Vint added 10 points on 4-of-5 shooting from the field.
The Miners held Texas State to just 33 percent shooting in the second half, but were nipped in the rebounding department 32-31 and allowed 12 offensive rebounds on the evening.
UTEP would start off a bit slow on offense, as they would come up empty on their first three possessions of the game while Texas State jumped out to a quick and efficient 5-0 lead.
Dominic Artis and Lee Moore would each connect on a three pointer during a 10-0 UTEP run to answer the quick start by the Bobcats.   Then Moore would get a steal around mid-court which led to an easy fast break layup to put UTEP ahead 18-10 at the 11:20 mark of the first half.
Texas State would answer with an 11-3 run of their own and tied things up at 21 after a pair of free throws from Emani Gant with 7:31 left until halftime.
Jake Flaggert would break that tie with a three pointer, but Texas State's Ethan Montalvo would drop in a three pointer two minutes later to cut the UTEP lead to 27-26 with 5:03 left in the first half.
Flaggert hit a trio of three pointers for all nine of his points on the evening.
UTEP would go on another 10-2 run over the next three minutes with eight points coming from Earvin Morris during the run including a pair of three pointers as UTEP took a 37-30 lead into the halftime break.
UTEP shot an impressive 8-of-12 from three point land in the first half, while Texas State used a 9-of-11 showing from the free throw line to keep things close in the first twenty minutes.
Texas State would come out of the halftime break trying to attack the baseline, and did so when Cameron Naylor got free for a layup at the 16:16 mark of the second half with UTEP leading 42-39.
Naylor added 15 points and eight rebounds for the 1-1 Bobcats.
Then the Miners would get going on another 10-2 run capped off with a transition three from Morris off a feed from Artis to give UTEP a 50-41 lead.
Morris finished his night 4-of-7 from three point land.
The run would continue after Moore beautifully found a cutting Morris for a fast break layup, plus the foul to extend the UTEP lead to 55-41 with 12:11 left to play.
UTEP's pressure and athleticism frustrated Texas State into a field goal drought from the 15:01 mark until Naylor got a layup at the 8:13 mark with the Miners holding a 58-47 lead.
Montavlo led Texas State with 16 points on 4-of-7 shooting from behind the three point arc, and drilled a wide open look at the 6:44 mark that made things interesting with UTEP leading 61-56.
With Texas State dropping into a zone, Artis would assist on back-to-back threes by Jake Flaggert as UTEP finished the game on a 12-5 spurt in the final 5:28 to pick up regular season number two.
After the game coach Floyd said UTEP is now dealing with two injuries, one that could end Matt Willms' season.
Willms played 10 minutes, but Floyd said he complained of serious pain in his foot, and could be shut down for the rest of the season.  Tevin Caldwell also suffered a concussion and will begin the concussion protocol.
After their first run against D-1 competition, UTEP was able to wear down the opposition on the defensive end, and hit some threes to close things out in the final stages, aided by another superb showing from UTEP's guards
UTEP will now prepare to play in less than 24 hours with reeling Alcorn State coming into the Don for a Sunday night battle apart of the Corpus Christi Classic.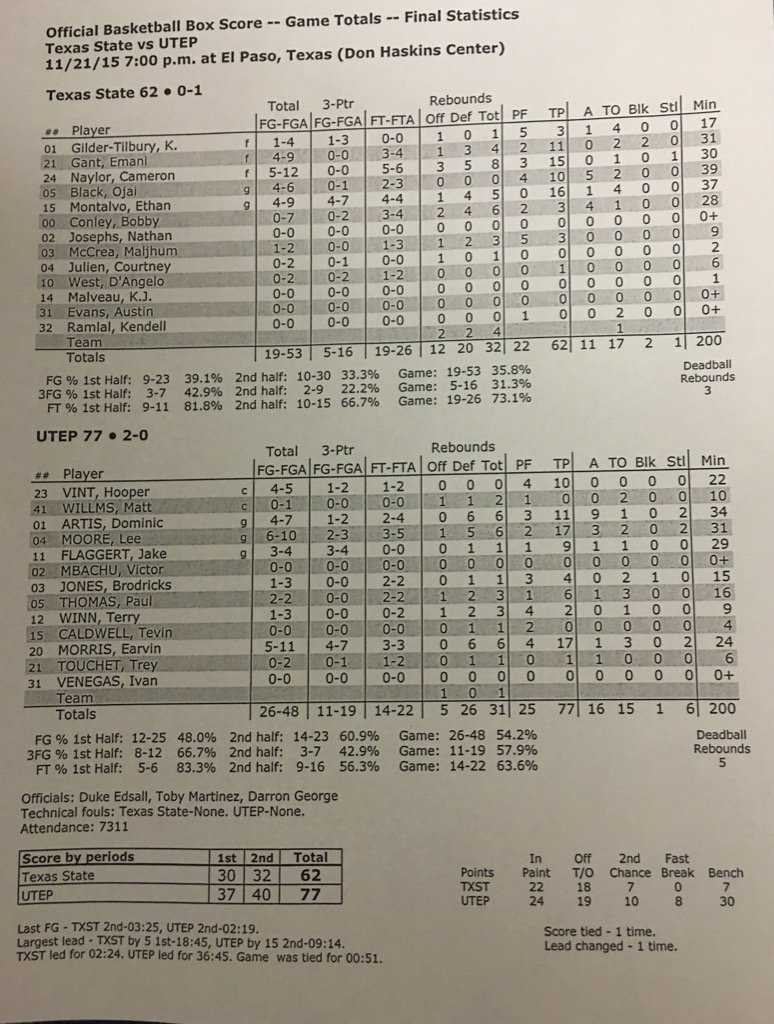 Earvin Morris after UTEP's 77-62 win

Posted by Miner Rush on Saturday, November 21, 2015