In the ever evolving world of the college football uniform, UTEP has stayed up to par over the past couple season with some cool, and trendy uniform combos while staying intact with tradition.
The 2014 version look to be the most impressive bunch of combos in recent memory. Starting with UTEP's outfit for last Saturday.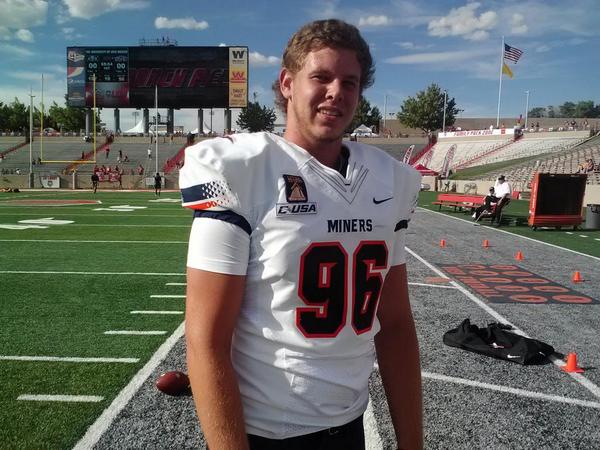 You can never go wrong with the traditional blues, with the white tops for the first road game, but the white tops say more than just Hi I'm your ordinary whites.
The orange and blue trim on the shoulders is placed perfectly, the air bush look is welcoming as it is different and gives it that modern 2014 feel, along with the picks on the shoulders which brings the jersey to a first team All-American candidate.
The trendy trim around the neck is also pretty cool, though it blends in with the numbers and kinda hides it from a far, maybe an orange tint on the design would have brought it out even more, still a solid look around neck above the numbers.
I even like the new number font, design, shading of the dark blue and orange out line of the numbers which looks pretty sick IMO, as does the bold MINERS print above the numbers, simple but to me it says business with no hints of a cartoonish look in UTEP's uni debut.
The Miners also kept it traditional with the standout orange helmet, with the usual pick as the T in UTEP, though could we see a return of a vaunted and hated by Aggie Miner lid of the past this Saturday versus Tejas Tech?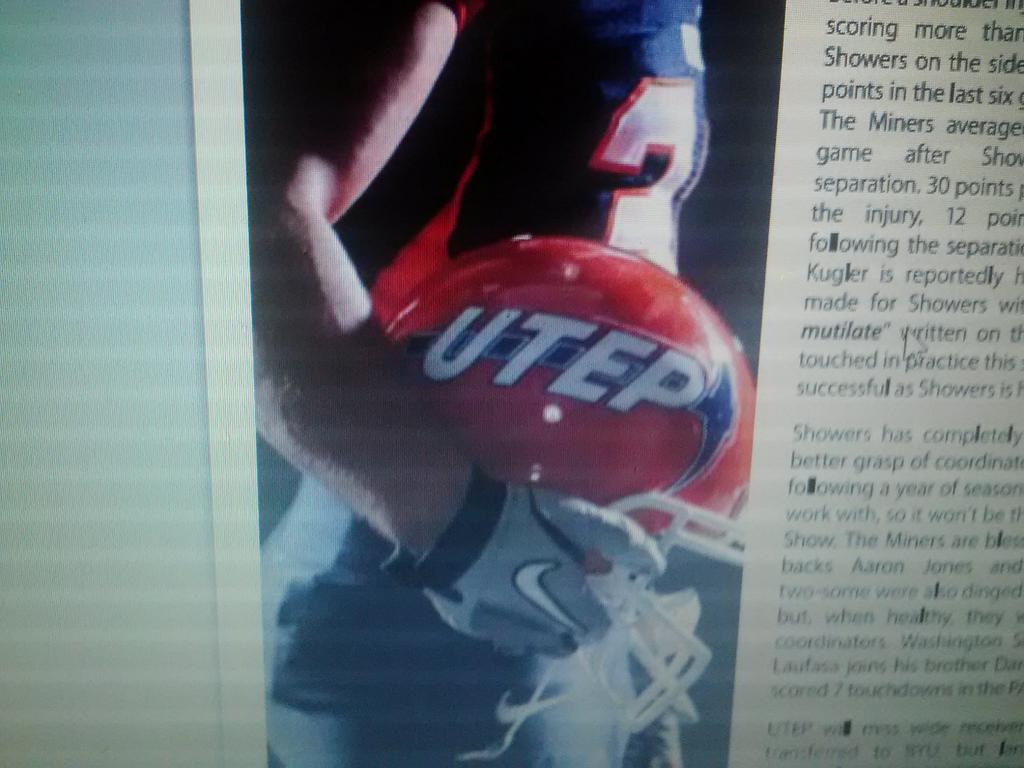 This horrible grainy picture I took from computer is from the News Channel 9 2014 Ultimate Football guide, is a completely different design of the UTEP, and pick combo that has been the staple of UTEP's during the Mike Price.
It looks like a re-run of the old design from back in the Charlie Bailey days of the forgettable 1990's
Not only did UTEP beat UNM on the scoreboard, they won the uniform battle too, sadly its seems New Mexico will never break tradition of the red and gray combo.
The big question this week is what does wear on its #SunBowlAfterDark National TV appearance??
Rumor has it UTEP has an orange, gray, and blue top that has not been seen, with the same colored scheme for pants.  Rumors are also swirling that UTEP has a metallic blue top from Nike that is guaranteed to blow any previous UTEP jersey combo away mixed with gray pants.
Stay tuned......
Texas FBS Week 1 Awards - Offensive Player/s of the Week @UTEPAthletics RB Aaron Jones pic.twitter.com/RCuLen7000

— Texas Edit Factory (@TexasEdits) September 1, 2014