The UTEP Football team opened up the 2014 campaign with their first practice of the season Monday afternoon in the Sun Bowl.
As usual the Miners started off camp in shorts in helmets, and showed high energy, tempo, intensity, and competition from start to end. UTEP spent a good portion of the early periods with position group work, focusing on technique, angles, all while shaking off the summer rust.
For almost all of the later periods, Coach Kugler amped up the competition on both sides with some intense eleven on eleven drills focusing on situations and substitutions, while showing off some speed in a defensive backs versus receivers one on one showcase.
Highlights of the day were brought by a group that has some huge questions heading into the season.
Ian Hamilton, Tyler Batson, Jaquan White, and freshman Zierre Banner all had highlight reel catches during various drills that will foresee this receiver competition as the highlight of the fall and something to really keep an eye on over the next few weeks.
Hamilton looked to be in mid-season form throughout the workout, snatching a jump ball away from freshman Nik Needham in the endzone on a beauty slung deep by Jameill Showers during eleven on eleven.
Showers and Hamilton would hook up a few plays later on a deep ball that Hamilton again went up and Mossed a defensive back for a score, this one was thrown 30 yards short of the end zone, but Showers put it right on the money and Hamilton made a great play.
UTEP's signal caller looked solid and crisp, and showed his usual velocity zip on short passes.
The Miners did mix in some run plays during eleven on eleven, and all of the quarterbacks behind Showers got themselves some solid tape reps to break down from day one that saw a lot of balls in the air during team drills.
Another sight to note was Aaron Jones fielding punts with Autrey Golden and junior transfer Nathan Stukes.
For me its hard to gauge a defense in shorts and helmets, though pursuit, and attention to detail within the scheme was at an all time high level of execution.
Alvin Jones, Jimmy Musgrave, Wesley Miller, Dashone Smith and two Miner newcomers Damian Payne, and Kelvin Fisher Jr. all had huge plays during team on defense, and flew around the ball at a very, very high level.
Jones and Musgrave worked behind starters Anthony Puente, and Trey Brown, showing UTEP has some solid depth there at linebacker. Jones and Musgrave in the middle will be a solid package for pass coverage, as both close in on the ball well, and seem to have a solid grasp on the scheme in their first year in the line backing core.
The defense did a solid job keeping everything in front of them, and you can tell angles of pursuit are greatly improved as each receiver, tight end was closely blanketed, forcing the offense to make plays.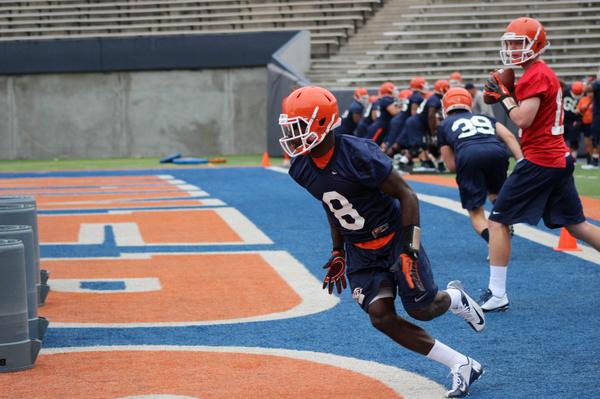 Its tough to gauge any team thoroughly just by day one in shorts and helmets, but the discipline, hustle, focus, and competition were clearly there for the Miners on day one.
Four new faces were also running around, and the first two aforementioned transfers should help right away in production at their positions.
Damian Payne transferred from Houston where he played in 12 games last year as a returner on both punts, and kicks. He also was third in the AAC in punt return average, and will see a lot of time at safety for the Miners as well.   Payne is a graduate student and will have one year of eligibility with the Miners.
Kelvin Fisher transferred from Arkansas and will have two years of Miner eligibility as a corner.  Fisher didn't see the field much at Arkansas, he appeared in six games last year, though was the 15th overall safety prospect by Scout.com coming out of high school.
The other two newcomers are on the offensive side of the ball.
Anthony Kyles is a JUCO offensive lineman from Los Angeles Southwest College where he started ten games last season. Kyles goes 6'3 300 lbs, and helped his running backs average 157.1 yards per game last season. Like Fisher and Payne, Kyles is immediately eligible to play.
The fourth player is tight end Hayden Plinke who will have to sit out this semester, but will be available in January. The 6'4 255 lbs tight end gray shirted at Boise State in 2011, then appeared in six games for the Broncos in 2012 before transferring to Portland State.
Coming out of high school, Plinke was the number one tight end in his native state of Oregon according to Rivals, Coach Kugler indicated he will be a candidate to replace Eric Tomlinson at tight end next season.
While UTEP added four to the roster, the Miners also lost one for health reasons.
Kyle Brown who was slated to be a starter along the offensive line will miss the rest of the year after doctors found a blood clot in his leg over the summer.
Other roster notes: highly touted freshman running back Treyvon Hughes will gray shirt this season.
Derek Elmendorrf was your starter at left guard, Jerome Daniels started at right tackle, and Jerel Watkins also worked with the ones at left tackle during team drills.
On the defensive front, Gino Bresolin, Maurice Chavis, Roy Robertson, and Nick Usher all manned the first team, though Alex Villareal, Cooper Brock, and Brian Mandunezim were the first subs at tackle and nose in certain packages.
The biggest, and to me the most important takeaway from day one was the overall solid conditioning UTEP showed throughout practice.
As mentioned, the Miners went at it in a high tempo, high energy manner, and I didn't see one guy with his hands on his knees during the whole entire two hour workout.
It was a very good step in the right direction on the road to August 30th and beyond.
DaShone Smith jumped a route for a pick perfectly Ian Hamilton looking good at WR

— MinerRush (@sbnminerrush) August 4, 2014
Jimmy Musgrave and Alvin Jones look solid together in coverage that will be an interesting package on defense

— MinerRush (@sbnminerrush) August 4, 2014
Tyler Baston and Jaquan White with highlight catches in 11 on 11 drills

— MinerRush (@sbnminerrush) August 4, 2014
Ziere Banner with a highlight diving catch down field really beautiful catch

— MinerRush (@sbnminerrush) August 4, 2014
Ian Hamilton is killing it out here today crazy chemistry with Showers

— MinerRush (@sbnminerrush) August 4, 2014